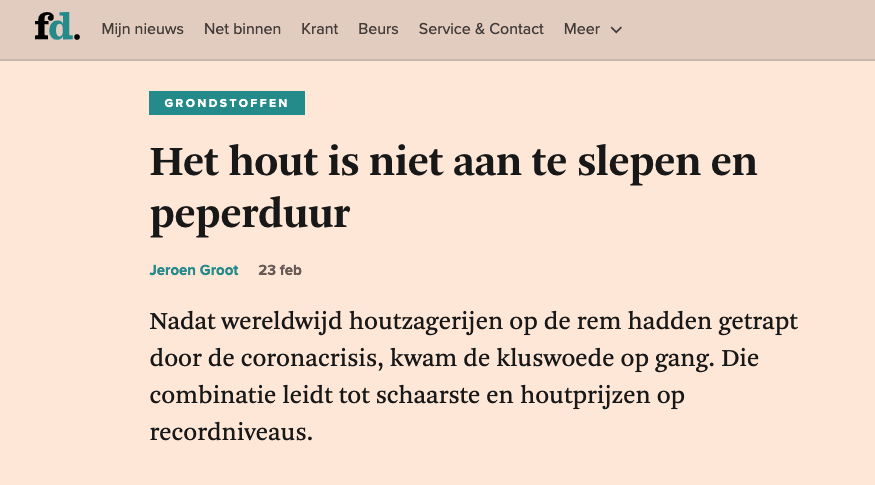 Plastic still tops wood when it comes to price
Compare plastic to wooden pallets and plastic leads the way on many fronts. Plastic is more hygienic because it is easier to clean, and it is safer because it does not splinter. Moreover, plastic pallets are, on average, about three times lighter in weight, which means they are less expensive to ship. Why, then, are wooden pallets still used so regularly? Mainly because of the price. Wooden pallets are cheaper. Until recently, however. The global corona crisis has caused the price of wood to skyrocket.
A huge price drop! That was the expectation throughout the timber industry when the pandemic erupted in early 2020. Stocks were reduced and production fell. This prediction, as it turns out, was wrong. The construction industry continued to run at full speed and Americans started doing odd jobs en masse. The result? Enormous demand for wood versus a drop in supply. The price of wood is now rising to historic heights. In the past, wood trumped plastic when it came to price. That argument no longer holds.
Plastic versus wood
Due to the enormous shortages of wood, you can now buy a used plastic pallet for the price of wood. Used? Absolutely!
When Q-PALL was founded, the goal was to reuse 90% of the plastic pallets. We have more than succeeded in this objective. No less than 98% of our pallets are made from recycled material. Our pallets are reused for as long as possible, recycled and then used as raw material for new pallets. The lifespan of a plastic pallet is about 10 years. A wooden pallet often has to be repaired or replaced after 3 years.
Hygiene & ISPM15
We already mentioned it. The fact that plastic pallets are easy to clean thoroughly has made them popular with food manufacturers, as well as in the pharmaceutical industry. Wood can carry fungi and bacteria and requires special handling for export purposes, the so-called handling in accordance with ISPM 15. ISPM 15 lays down measures to guarantee that any quarantine organisms do not spread among wooden packaging. ISPM 15 describes the treatment of wooden packaging, in order to kill any living vermin that may be present. However, all this is not necessary with plastic. Plastic pallets meet the strict requirements set by countries such as Great Britain, USA, China, Australia, Canada and New Zealand as standard.