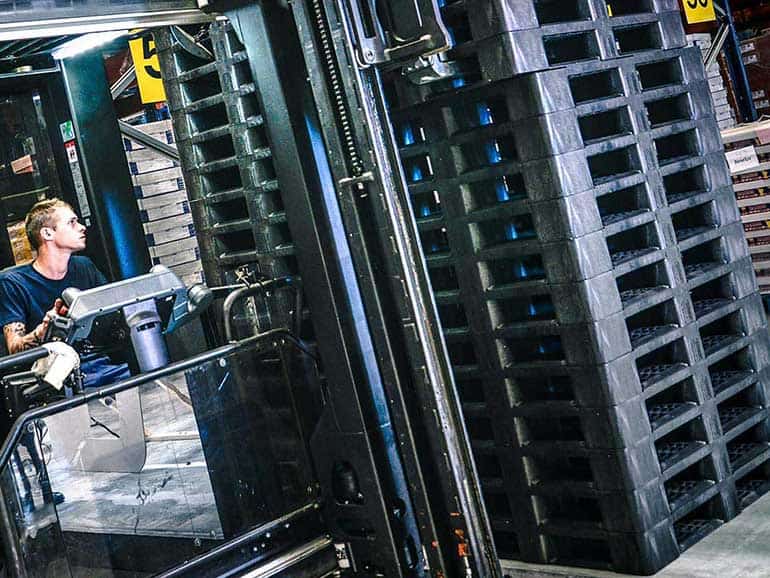 Stacking pallets: Can plastic pallets be stacked?
Stacking pallets using plastic pallets, is that possible?
What does the storage of your enterprise look like? Do you have a warehouse in combination with office space, do you use the outside area as a storage location or do you make use of third parties to see to the storage and transhipment? In any case, the concept of 'pallets' is bound to be discussed occasionally. The traditionally used wooden pallet is increasingly on the decline and is replaced increasingly more often by the plastic pallet. What is that like in your organisation? Perhaps you are uncertain about the usefulness and necessity of the plastic pallet. Do you wonder whether they are indeed so sustainable? And stacking plastic pallets, is that even possible?
Stacking plastic pallets
Yes, stacking plastic pallets is certainly possible. Plastic pallets have all kinds of useful properties that are also part of the traditionally used wooden pallets. You can, for instance, purchase them in different sizes, because you will obviously have different purposes for them. One plastic pallet could be fitted with a drip tray in case you need to drain fluids, while the other plastic pallet will have dimensions that are just a bit more convenient for your logistic approach. Thus, numerous choices can be made.
Stacking plastic pallets is easy
Also stacking pallets made of plastic is a piece of cake. In fact, the same aspects apply as for wooden pallets: ensure that the size is corresponding. Obviously you will realise that stacking a large pallet on a smaller size will lead to problems. Fortunately, the plastic pallet is just as strong, or perhaps even stronger than its wooden counterpart. This implies that you needn't worry about the existing processes within your company.
The advantages listed
Due to its long lifespan, it may be economically more beneficial to make use of plastic pallets instead of the wooden ones. They are so sustainable that you will hardly ever need to replace them. Since they can so easily be stacked, they are easy to apply for all kinds of storage. Also, they will not cause annoying splinters or cluttering wood chips. As such, plastic pallets are also more practical in use. If you will not be using them for a while you can easily stack them and store them in a location where they will not be a bother. Due to the applied materials, they are also excellently suitable for storage outside.
Do you wish to know more?
In summary, plastic pallets offer many advantages over the wooden variant. But what are the exact advantages for you and what are the costs of the different options? We will gladly answer these and all other questions you have. Contact us, so we can provide you more information!